Never too late to dance!
Never too late to dance!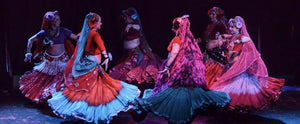 As a child, I grew up on a small farm outside of a two- stoplight town in southern Oregon. Growing up in the country, I experienced all that nature had to offer, from milking cows, collecting eggs and chopping wood to hunting for peacock feathers in the woods, riding our bikes to the lake to swim, and picking blackberries every summer for spending money. (Yes, I said peacocks feathers... Our neighbors had some peacocks. They escaped, and years later, wild flocks inhabited the woods behind our house.)
If you look closely at our fabulous headbands, you can see some of the feathers we collected. This was not a Halloween costume, but us dressing the part while playing outside. No shoes required.
Thanks to my mom, I played the piano, took ballet and tap, sang in choir and learned to sew. Thanks, Mom!
I grew up and moved on, but the thrill of exploration and creating never left me. The ballet and tap fell by the wayside, but my love of music and the desire to dance never left. Life happened and I never found the time. Oh, I danced... I danced when no one was around. I danced with my son in my arms to the
Gipsy Kings
 when he was little. I danced to live music with my friends, but I never made the commitment to take up the art form and learn the craft. 
A few years ago I became intrigued by belly dancing, and those wistful thoughts of dancing reared their heads again.
This style of dance speaks to me. So passionate! So vibrant! As a woman addicted to vibrant color, jewelry, exotic places and music, how could I not love it?! The costumes! The moves! The strong, confident way these dancers carry themselves. Nuff said!
I purchased this amazing print to hang on my wall and inspire me every day! (It was hard to choose which one to get first. His work is breathtaking!)
I did a little research in my area and found a
class
that teaches
American Tribal Style (ATS) belly dancing
. The first class is free, they said... (Famous last words.) I took that free class and never looked back. That was 7 months ago. I took level one, bought my first vintage belly dance belt and was hooked. I advanced to level two and added to my ever-growing collection of dance costumes. (I search on
Etsy
for vintage treasures.) Last weekend I was asked to perform with the troupe on the chorus line, and of course I said yes!
Never one to do anything on a small scale, I decided to make a headpiece, using a copper branch tiara I had made a few years back as a base. 
Here is the piece finished. I secured it in place with leather ties and bobby pins. You can't have your flowers flying off when you are spinning on stage... 
Next up... 
tribal stage makeup
, hair and the rest of my costume. In ATS belly dancing you wear layered skirts over pantaloons, a short top called a choli with a decorated beaded bra over it and lot and lots of jewelry. I ordered a custom one from
White Ibis Design
.
I bought this piece on Etsy from 
EasternWonders
 and layered it over two 25-yard skirts. 
I combined pieces from my own jewelry line with what was left of the belt I'd used on the headpiece.  
Hand-crafted Great White Shark tooth ring in sterling silver and bronze. Adjustable.
Bronze crescent moons with recycled silver stars. Faceted carnelian wrapped with sterling. Sterling silver ear wires. 
Here I am, all ready to go. Now let's dance!!!